In J.D. Power's latest survey, new vehicle owners rate just how much they love their cars and trucks. The results include some pretty big surprises.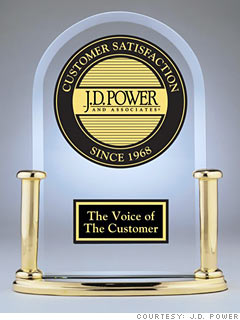 J.D. Power's latest car owner satisfaction survey includes some good news for Chrysler Group and Hyundai.
Chrysler hasn't done well in these sorts of surveys in recent years, but this time the new Dodge Challenger beat out its competitors as the most-favored mid-size sporty car. (Also worth noting: The Dodge brand, overall, earned above average scores in this survey after posting the largest one-year improvement of any car brand.) And Hyundai, not known as a luxury brand beat out higher-priced mid-sized luxury cars from BMW and Jaguar.
The market research company surveyed 80,000 new car buyers after 90 days of ownership asking them to rate as many 90 different features of their vehicles as well as their overall satisfaction. The J.D. Power APEAL survey -- it stands for Automotive Performance, Execution and Layout -- provides a measure of just how much new car buyers like their cars and why.
NEXT: Sub-compact Car: Smart ForTwo