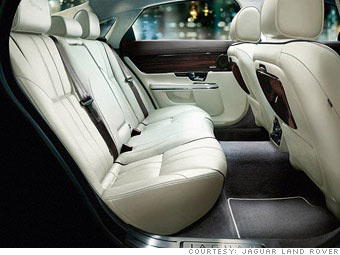 The XJ's glass roof allows more light into the interior. That, in turn, allowed designers to give the car a lower roofline without making the cabin feel cramped inside, Jaguar says.
The new XJ will be available from the start in both standard and long-wheelbase body styles. Long-wheelbase versions will provide rearseat passengers with five extra inches of legroom.
While a global economy that's struggling to come out of recession might seem like a terrible environment in which to launch a car that will range in price from about $72,000 up to over $100,000, O'Driscoll calls it "the best of times, and the worst of times."
While sales are down, Jaguar has been gaining market share in luxury segments, he claims. That means the eventual global come-back should bring good things for Jaguar, he said.

NEXT