Even if you think your old car qualifies for a Cash for Clunkers rebate, you may be surprised at your options.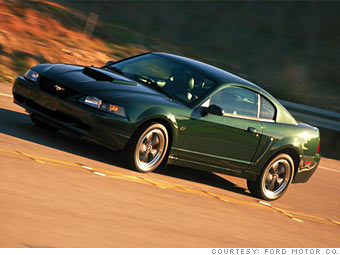 Combined MPG: 18
Trade-in value: $3,800
Verdict: Sell it yourself
The rule of thumb to figure out if your vehicle qualifies for the government's new "cash for clunkers" program is: If it gets a combined city/highway fuel economy of 18 miles per gallon and has a trade-in value less than $4,500 it probably makes the grade.
But just because your vehicle qualifies for the program doesn't mean you should actually take advantage of it. In some cases, you could still do better without it.
Take a 2001 Mustang Bullitt GT. With an estimated combined city and highway fuel economy of 18 miles per gallon, the Mustang GT could get you a $4,500 voucher for a new car with better fuel economy.
But considering that Mustang fans would be appalled at the idea of tossing a special edition GT coupe into the maw of a car crusher, there is a better way: Sell it yourself.
Since trade-in value represents, essentially, the "wholesale" cost of a new car, you can generally do much better by selling the car directly to a new owner, bypassing the middle man.
In this case, selling it yourself would net you about $5,500. Whether that extra $1,000 -- and the pleasure of knowing the car will live on -- is worth all the trouble is up to you.
We've selected a swath of popular vehicles and determined whether or not their owners should take advantage of "cash for clunkers." In all of these examples, the estimated values are calculated by Kelley Blue Book, assuming, except where otherwise noted, a base-model vehicle with standard equipment that is in "Fair" condition and has been driven about 15,000 miles a year. We're also assuming you can qualify for the maximum $4,500 credit on your new car.
Click through for a look at the sometimes surprising verdicts on a few more vehicles.
NEXT: 2001 Chevrolet Camaro Z28
Last updated July 29 2009: 2:26 PM ET
Values assume 15,000 miles a year and "Fair" condition.