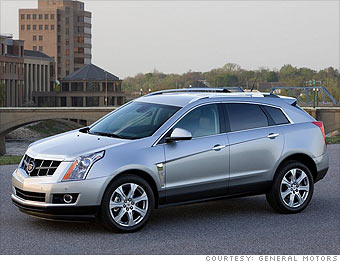 The brand new Cadillac SRX is designed to compete against import vehicles like the Lexus RX. What Cadillac hasn't had, but will soon, has been a direct competitor to cars like the small BMW 3-series.
One thing Cadillac has lacked has been a true entry-level product, new Cadillac General Manager Bryan Nesbitt said, something about the price and size of a BMW 3-series. The current Cadillac CTS is slightly more expensive and much bigger.
GM showed off a new small Caddy that's aimed at solving that problem. The version shown was a 2-door car, but it will be available with four doors, as well.
It will be run by a small but powerful engine, he promised, and it will be available in either rear- or all-wheel-drive. You'll also be able to get it with a manual transmission.
GM also showed a new big Cadillac that will replace both the STS and the mammoth DTS sedan. This vehicle will be an all-wheel-drive car. Nesbitt wouldn't say what engine might power the new full-size car.
There was no hybrid Cadillac on display. GM is still looking into whether, and how, to do such a vehicle. Luxury buyers aren't willing to sacrifice features or performance, Nesbitt said, so it's harder to provide serious fuel savings in a satisfying luxury vehicle.

NEXT: Buick