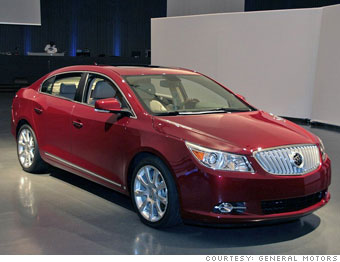 The new Buick LaCrosse just went into production. Two smaller cars share much of its style.
At its 2012 preview, GM showed off a new plug-in hybrid Buick crossover SUV.
It was originally supposed to be a Saturn Vue plug-in hybrid, but that plan had to change in a hurry after GM decided to jettison the Saturn brand as part of the recent restructuring.
The Buick plug-in showed signs of the quick changeover. Much of the body looks very similar to the Vue crossover.
A few days after showing the vehicle to journalists in Detroit, GM announced it was scratching the Buick plug-in off its future product list. The response hadn't been good, with many feeling the product didn't fit with Buick's up-scale image, so the plug-in hybrid SUV will be introduced, instead, under another brand, GM said.
GM also showed off two new Buick sedans, both of which were smaller than the just-introduced 2010 LaCrosse, a mid-sized and a compact car.
"We think this will be a real game changer and catalyst for the renaissance at Buick," Buick and GMC general manager Susan Docherty said of the new mid-sized car.
There was nothing bigger than the LaCrosse which, a GM executive hinted, meant that the big Buick Lucerne will be gone soon.
In addition, there was also a new compact Buick SUV, something about the size of a Honda CR-V, with distinctive sharp lines and Buick-style chrome. Docherty compared it to Buick's current full-sized crossover, calling it "the Buick Enclave in a baby version."

NEXT