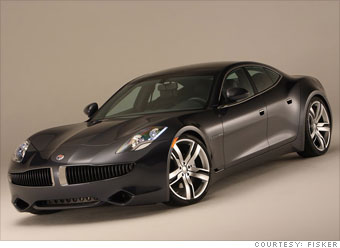 Model shown: Fisker Karma
Price: $88,000
Power: Extended-range electric
Expected sale date: Summer, 2010
Like Tesla, Fisker is entering the market at the high end with the Fisker Karma, an $88,000 extended-range electric car which is scheduled to come out in the summer.
The Karma will drive about 50 miles on electric power alone before a gasoline engine kicks in to generate electricity for further driving. Fisker promises average fuel economy of about 100 miles per gallon for most drivers, and says the car can hit 60 miles per hour in under six seconds.
Even the luxurious interior of Fisker's car is eco-friendly. For Vegan drivers, there will be an EcoChic model that uses no animal products. The alternative EcoSport edition will use sustainably farmed leather that uses 85% of each animal's hide.
Fisker recently made news with its deal to buy the Delaware factory that General Motors had used to make the Pontiac Solstice sports car. It plans to use the facility to produce an electric car that's less expensive than the Karma, starting in late 2012.

NEXT: Aptera