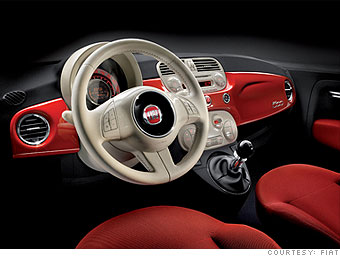 You won't be able to buy the 500 at just any Chrysler dealership. Only selected dealerships in urban areas will be allowed to sell the car.And it won't be just thrown in there with all the Chrysler, Dodge and Jeep stuff, either. The 500 will be sold in separate "salon" stores within the dealership, distinctly set apart from the rest of the business.
There will also be separate sales staffs for the 500.
"I think there's some combination of Mini and Scion thinking," said Jack Nerad, editorial director for Kelley Blue Book's KBB.com Web site.
Both BMW's Mini brand and Toyota's Scion maintain a certain exclusivity without a separate dealership network and without simply pricing their products out of most people's reach. They do this using the same "store within a store" strategy that Chrysler will use for the 500 and by making their cars, like the 500, highly customizable.

NEXT: More than small