This little Italian car has the potential to be popular but it's far from a sure bet. Chrysler hopes it can deliver.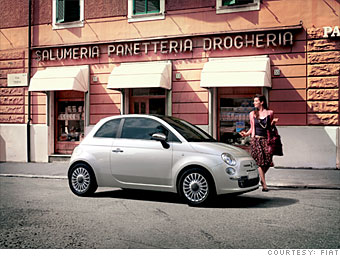 In late 2010, we'll begin seeing the cute little Fiat 500 showing up at selected Chrysler dealers here in the United States. Already, fans are clamoring for the car with its cool Euro-retro style.
But don't expect the 500 to sell in bunches. Even Chrysler executives are playing down expectations for the car, based on the fact that Americans have traditionally preferred larger vehicles, and the 500 is definitely not large.
Still, the little car could have the stuff to make a splash here, some experts say. There's more to success than just size. For example, look at the Mini Cooper which remains a hot product, right through the recession, thanks to its fun driving performance, clever design and parent company BMW's smart brand management.
On the other hand, the Mini, even as mini as it is, is still bigger than the 500. This makes other experts think that, with this car, Fiat may be going one size too small for American tastes.
NEXT: Sizing up the 500