These days, little engines produce the same power you once needed a big V8 for. Meet 5 new models bringing back the muscle car.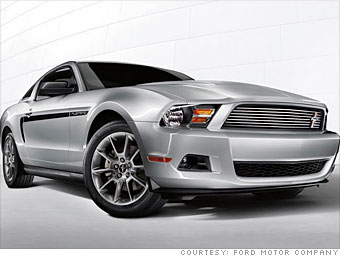 Sticker price: Not announced
Engine: 3.7-liter V6
Horsepower: 305
Mileage: 30 hwy, 19 city
At the 2009 Los Angeles Auto Show, Ford Motor Co. unveiled the 2011 V6 Ford Mustang. The old V6's 210 horsepower wasn't bad, but these days carmakers are squeezing a lot more than that out of 6, and even 4, cylinders.
The new Mustang V6 will put out 305 horsepower, up from 210 in the current model, and 280 foot-pounds of torque, an increase from 240 in today's V6. These numbers come close to today's 315 horsepower V8 Mustang.
Ford projects fuel economy will actually be better, too. The automaker expects the new Mustang V6 to get 30 mpg on the highway with a six-speed automatic transmission. (Fuel economy is sightly lower with the manual transmission.)
Much of the credit goes to a new Twin Independent Variable Camshaft Timing system. This allows for precise control of when and how long each intake and exhaust valve in the engine is open. Opening and closing times can be varied minutely depending on engine speed and how much power is needed.
NEXT: 2010 Chevrolet Camaro