The state capital of Mississippi boasts down-home charm, a can-do attitude and an array of dynamic businesses.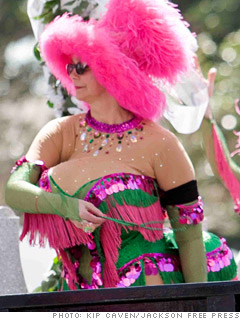 Sweet Potato Queen Jill Conner Browne at the Mal's St. Paddy's Day Parade on March 21, 2009.
The entrepreneurial spirit permeates Jackson like the scent of magnolia blossoms.
It's showcased every March, when the city hosts the annual Mal's St. Paddy's Day Parade, which was started 27 years ago by businessman Malcolm White, co-owner of popular restaurant and music venue Hal & Mal's.
Leading the procession is one of the city's most famous - and colorful - entrepreneurs, Jill Conner Browne. Each year she and her entourage march down the street in giant red wigs, white Marionette boots and spangly green-and-pink costumes, playing the part of Sweet Potato Queens, their larger-than-life persona.
Browne has created an empire around her best-selling books, which feature the smart-mouthed advice-giving Sweet Potato Queens (the latest being American Thighs: The Sweet Potato Queens' Guide to Preserving Your Assets).
NEXT: Modern furniture, old-fashioned charm