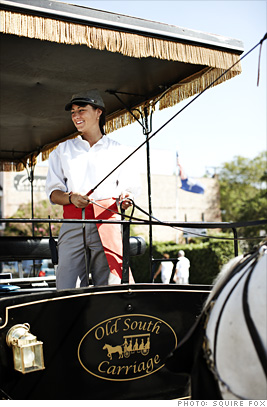 History is alive and well in Charleston.
Across from the 250-year-old St. Michael's Church on Broad Street, sweetgrass-basket maker Laurie Bonneau sets her wares on the sidewalk in front of the Hollins Judicial Center. Bonneau has been coil sewing -- a painstaking process with the unwieldy sweetgrass -- since she was a child, taught by her mother and grandmother. Bonneau says her family has made baskets and sold them from this location "since this place was sand."
Continue north on Meeting Street and you'll find the city's French Quarter, which is full of art galleries. Anne Worsham Richardson, one of the state's most acclaimed painters, sells her original works and prints at the
Birds I View Gallery
. Richardson, who opened the gallery with her husband in 1972, was commissioned by the South Carolina government to paint official portraits of the state bird (the Carolina wren), the state flower (the yellow jessamine) and the state butterfly (the tiger swallowtail).