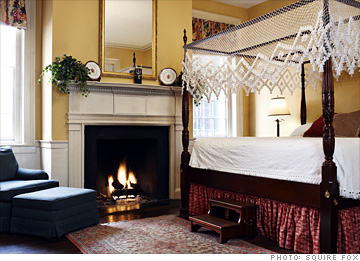 Leaving the historic district for Upper King Street, you'll find restaurants and independent retailers, including fashion, design and antique shops. This long thoroughfare was the main drag into Charles Towne (as the city was originally called) in the late 1600s and continues to be a center of commerce. There you'll see
Kings Courtyard Inn
, which first opened as a rooming house in 1853 and has been a bed-and-breakfast since 1983. The inn and its 41 rooms are convenient to the city's sites and shops. The rooms are furnished with 18th-century reproductions and 21st-century amenities, including fireplaces, jetted tubs and wireless Internet.
Any place that brews iced coffee to order is a must-stop for caffeine connoisseurs. Enjoy the aroma of rich roasts from the patio, or venture inside to absorb the safari-art atmosphere of four-year-old
Kudu Coffee House
. Owner John Saunders, who has lived in Kenya and Tanzania, created three house blends from his selection of single-origin African beans.