You've made it through the layoffs; now it's time to invest in yourself.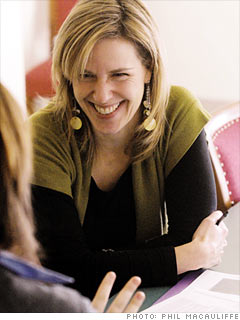 Vanessa Christman says serving on nonprofit boards taught her leadership and furthered her career.
It's not a bad thing to be known for doing your existing job well. But you're more valuable when you add new areas of expertise. "You get paid in two ways: compensation and experience," says Tom Bundros, chief financial officer of a municipal utility company in Dalton, Ga. "If you want to be successful, be more concerned with the experience." He attributes his success to moving among different financial specialties.
Granted, branching out within your firm is harder during a recession. Companies are less focused on internal development, and they're more likely to shut down divisions than to open new ones. So recruit a mentor, says Linda Dominguez, an executive coach in Los Angeles. If there's a part of the company you want to know more about, ask an executive a level or two above you if you can meet with him or her on a limited basis - say, 30 minutes every other week for two months. "Put some structure around it so that the person doesn't feel burdened," Dominguez suggests.
Look for opportunities off the job too. Vanessa Christman, 47, a former English teacher, says that working on two nonprofit boards helped her rise from a support job to a supervisory position coordinating student programs at Bryn Mawr College. "It gave me confidence in my abilities," she says.
Strategy:
Go out of your way to meet with executives in different parts of your organization.
More galleries
Last updated February 02 2009: 5:54 AM ET
Email
|
Print
|

Digg this story
|

RSS