The last day of a recession is the best day to start a business, the saying goes. So tackle the 10 steps in this guide now - and be ready to ride the rebound when it comes.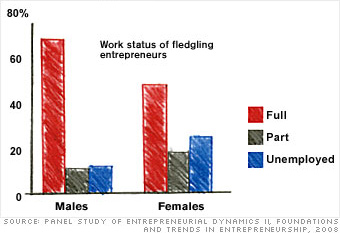 "Unless you really loathe your current job, it probably makes sense to stay where you are while you scope out your business idea," advises start-up coach Pamela Slim, author of the upcoming book "Escape from Cubicle Nation."
Indeed, most entrepreneurs work through the planning process; see chart. The obvious benefit of doing so: You continue to pull in a salary. That means you're buying yourself time to build a bigger launch fund. (And in this economy, the less you have to borrow to start up, the better.) Besides, you'll want to be tucking away, at minimum, six months of family living expenses and six months of business operating expenses for when you are ready to quit, says Anita Campbell, who runs Smallbiztrends.com. Twelve months would be, well, twice as good. Finally, if you end up finding out that the world isn't ready for your big idea, hey, at least you'll still have your day job.
One important caveat: If your company can make any claim to work, products or intellectual property created while you were employed, you may want to quit before the planning begins. But better make sure you've built that cushion before you do.
Among the growing camp of people who were given a pink slip? You may want to get a part-time job--any job--so you can slow your severance burn rate.
NEXT: Step 3: Leverage your expertise
Last updated January 12 2009: 5:30 AM ET
Email
|
Print
|

Digg this story
|

RSS