The shakeup in the financial system has changed the rules of managing your money. Here's a shorthand look at how to use the new rules to build wealth for your family, no matter how old you are.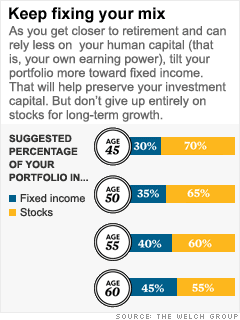 Traditional advice:
You're at the height of your earning power. Make the most of it.
Step up saving for college and retirement.
Consider your growing home equity as an extra source of funds, if needed.
Put together the right mix of assets for key goals; then sit back and watch those investments grow.
What's changed:
Don't count on earning top dollar until you retire.
Your home actually isn't a reliable source of ready cash.
When it comes to your investment mix, you can't just set it and forget it.
The right moves now:Try lowering the odds you'll get the ax.
Take courses to keep your career skills current. You'll be less vulnerable in the next round of cuts and more competitive in the job market if you do get whacked. And make sure you have an emergency fund that can cover your living expenses for six months to a year.
Rely on actual cash for cash, not on your house.
Don't drain your home equity to pay for ordinary consumption (no HELOC-funded vacations or flat-screens). Abuse your credit line, and you could be out of luck if you need to tap that equity in a genuine emergency (see the move above). Worse, if home prices keep falling, you could end up underwater on your mortgage.
Actively monitor your portfolio.
The hands-off approach needs to yield to hands on (just ask all the pre-retirees and parents of high school seniors who've learned too late that they had too much in stocks). Keep a watchful eye to ensure that market momentum doesn't push your allocation out of alignment. Twice-a-year rebalancing will help keep you on track.
Take advantage while you can.
Invest as much as you can for college and retirement while you're bringing home the big bucks. Circumstances can change fast.
NEXT: Stage 3: The wind-down
Last updated March 24 2009: 2:45 PM ET
Email
|
Print
|

Digg this story
|

RSS