Kitchen too small? Depressed by your rooms? No matter what your budget, there's a way to solve the problem.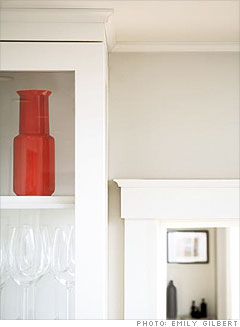 If your home was built in the past 50 years, chances are you have dull trim that was essentially designed to obscure a multitude of carpentry sins. To tear it out and replace it, you'd spend as much as $2,000 for a room with four or five openings. Or, for as little as $500 to $1,000, you can give that old trim new life using the three methods below.
1. Create new lines
A well-placed cornice around the perimeter of the room can give mass-produced trim a unique look; a chair rail a few feet off the floor gives a boxy room dramatic flair.
2. Give doors a wraparound
Put a cove (a molding with a concave face) around a plainly trimmed door or window to create interesting shadows within the room.
3. Add some ornament
Hand-carved decorative pieces look nice, but they are expensive. The plastic versions offered by distributors Outwater (outwater.com) or Focal Point (focalpoint-products.com) are far cheaper and appear almost identical.
NEXT: Cut the deck, grow the patio
Last updated March 20 2009: 9:25 AM ET
Email
|
Print
|

Digg this story
|

RSS