Kitchen too small? Depressed by your rooms? No matter what your budget, there's a way to solve the problem.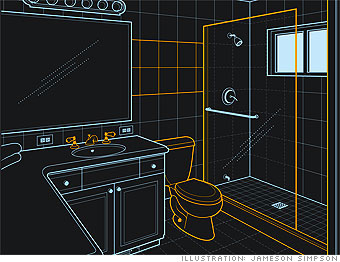 Back in the day of huge credit lines, bathrooms were transformed into "spas" - and $30,000 would fly out the door. There are plenty of sensible changes that will give the room a whole new look for less than half that price.
1. Take it easy on tile
Handmade tiles are a budget buster at about $20 a square foot. Tile that costs half as much will shed water just as well. To save more, tile only around the shower, toilet, and sink.
2. Shine a light
For about $1,500, a skylight will transform a tight space. If natural light isn't an option, consider spending $1,000 for a mirror that covers an entire wall.
3. Put in a shelf
Instead of replacing the vanity, add a shelf along the wall over the sink. That will give you far more storage and cost only a couple hundred dollars.
4. Get a sweet deal on fixtures
At websites like faucetdirect.com and fixtureuniverse.com, you can find faucets, showerheads, and sinks for a third of the retail price. Caveat: If the item breaks during installation, you may have to pay to replace it.
5. Add a drain
An extra drain in the floor can prevent a far more costly flood disaster, especially if your teenage daughter can't manage to shower in less than 30 minutes. Cost: at least $1,000.
6. Switch to a shower
A new tub will cost you at least $2,000, vs. about $1,000 for a shower. Cut the cost even further by opting for a doorless opening with a showerhead facing away from it.
NEXT: Three smart splurges
Last updated March 20 2009: 9:25 AM ET
Email
|
Print
|

Digg this story
|

RSS