It's a classic dilemma: You want to minimize losses without giving up future gains. Here's a classic solution: a balanced fund that holds both stocks and bonds - such as one of these three no-loads.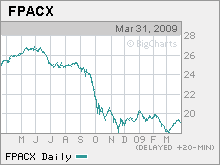 Ticker:
FPACX
1-year return:
-20.8%
5-year return:
1.8%
Expense ratio:
1.34%
Why we like it:
The only no-load fund from respected First Pacific Advisors, it typically holds stocks, bonds, and convertibles. But manager Steven Romick is playing it safe lately, keeping about 40% in cash.
NEXT: Oakmark Equity & Income
Last updated April 17 2009: 8:52 AM ET
Email
|
Print
|

Digg this story
|

RSS
Source: Morningstar.
One-year return is through March 30. Five-year return is annualized.