Whether you prefer a simple portfolio or a more diversified asset mix, these 13 exchange-traded funds offer the purest choices.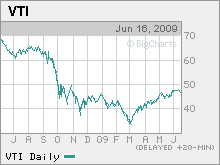 Ticker:
VTI
Expense ratio:
0.07%
One-year total return:
-30.0%
Three-year total return:
-7.4%
What it does:
Tracks the MSCI U.S. Broad Market Index, which includes nearly all U.S. stocks
NEXT: Vanguard FTSE All-World ex-US
Last updated June 18 2009: 10:28 AM ET
Source: Morningstar
N.A.: not available.
Returns through June 15, 2009.