Residents who live in these 25 growing towns see their incomes go the furthest.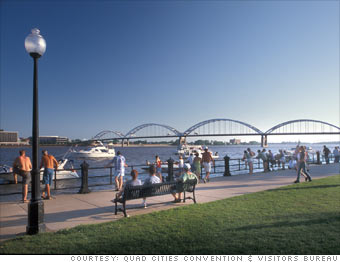 Median home price: $99,312
Median family income (per year): $59,453
The mighty Mississippi flows through countless American cities, but it flows differently in Davenport.
The city is situated on the only section of the nation's second-longest river that runs east to west. Davenport also shares a border with Illinois and is often referred to as "Iowa's front porch."
Davenport is part of the Quad-Cities area, which, despite its name, is made up of five cities in both Iowa and Illinois.
The city hosts a number of annual music festivals and sporting events. Farm equipment maker John Deere is one of Davenport's largest employers. The city boasts two universities and plays host to several annual music festivals. --B.R.

See complete data and interactive map for Davenport

NEXT: Jenison, MI

Last updated July 14 2009: 5:38 PM ET