Residents who live in these 25 growing towns see their incomes go the furthest.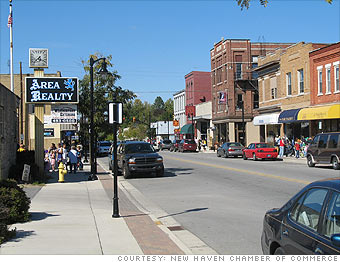 Median home price: $89,152
Median family income (per year): $63,332
In addition to affordable housing, New Haven residents enjoy the `walkability' of their town. Children can mostly walk to school, and area churches are easily accessible by foot. Downtown New Haven is only a few blocks long, but it offers a couple of restaurants, a furniture store, a barber shop, flower and design shops, and a high end jewelry store, to name a few. The town is especially proud of its library -- which was built just 5 years ago - and is usually bustling with community activities.
New Haven is smack next to its larger cousin Fort Wayne, allowing residents access to more amenities and a greater range of employment opportunities. The small town pace of life attracts residents who commute to Fort Wayne.--C.C.

See complete data and interactive map for New Haven

NEXT: Oak Ridge, TN

Last updated July 14 2009: 5:38 PM ET