Residents who live in these 25 growing towns see their incomes go the furthest.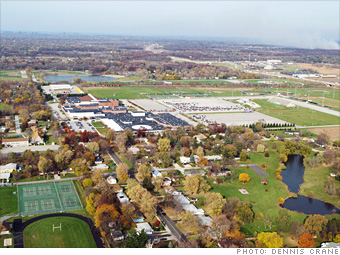 Median home price: $122,309
Median family income (per year): $71,739
Located at the intersection of two major highways, Merrillville bills itself as the downtown of northwest Indiana.
Merrillville has a growing economy with a number of financial and technology firms operating there. Frito-Lay and NiSource - a Fortune 500 energy company - both have a presence in the city.
The city has a variety of cultural and entertainment options, but there is no shortage of bigger cities within driving distance of Merrillville. Chicago, for example, is about 50 miles north. --B.R.

See complete data and interactive map for Merrillville

More galleries

Last updated July 14 2009: 5:38 PM ET