Residents who live in these 25 growing towns see their incomes go the furthest.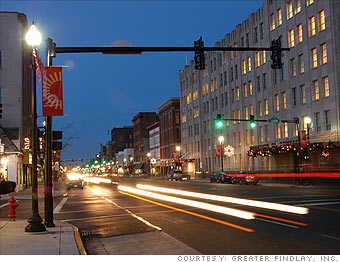 Median home price: $100,000
Median family income (per year): $62,824
Just off Interstate 75 and south of Toledo, Findlay is officially dubbed "Flag City, USA" for its patriotic dedication to waving the red, white and blue. On June 14, 1968, every house in Findlay flew an American Flag after a member of the Sons of the American Revolution came up with the idea to promote patriotism. John B. Cooke garnered enough local interest to buy 14,000 flags that Girl and Boy Scouts distributed around the town.
The town was founded in 1812 but its population surged in the later part of the century when oil and gas were discovered in the region.
Today, the historic town is home of the University of Findlay. And the Findley Downtown Area Association has organized a plan to revitalize the center of the city, including a move to add more parking to make the area more accessible. Another program, the Downtown Façade Loan program, offers loans to businesses below prime rate to fix up shop fronts.--C.C.

See complete data and interactive map for Findlay

NEXT: Lake Jackson, TX

Last updated July 14 2009: 5:38 PM ET