Residents who live in these 25 growing towns see their incomes go the furthest.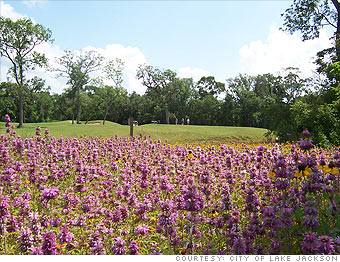 Median home price: $143,125
Median family income (per year): $88,677
Affectionately called the "City of Enchantment," Lake Jackson is sandwiched between Houston and the Gulf of Mexico. The city was originally planned to support and house the employees of the Dow Chemical plants built in 1941.
The first architect for the town, Alden B. Dow, gave specific instructions that roads needed to be constructed such that they protect especially big trees. The planning left unique curvy streets. Furthermore, to add a sense of humor to the town, Dow named streets "This Way" and "That Way." Those street names exist still today.--C.C.

See complete data and interactive map for Lake Jackson

NEXT: Noblesville, IN

Last updated July 14 2009: 5:38 PM ET