Especially in a tough economy, plentiful job opportunities are key to making a great place to live. These 25 counties have experienced the most job growth over the last eight years.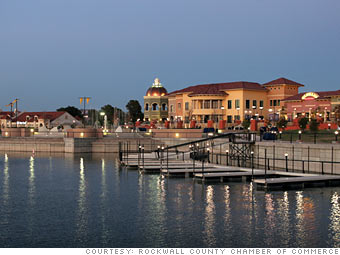 Towns include:
Rockwall
Job growth (2000-2008):
84.9%
Spillover from the neighboring city of Dallas has spurred the county's population growth, and more people are finding that Rockwall is not only a nice place to live, but a nice place to work too.
An influx of new shops and restaurants, in addition to large employers like L-3 Communications, has brought many more jobs to this former commuter county in rural Texas. Meanwhile, manufacturing positions at several long standing aluminum plants remain the backbone of the community.
NEXT: Kendall County, IL