Especially in a tough economy, plentiful job opportunities are key to making a great place to live. These 25 counties have experienced the most job growth over the last eight years.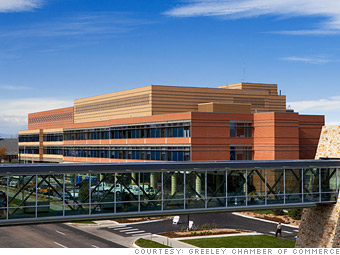 Towns include:
Johnstown
,
Greeley
Job growth (2000-2008):
51.4%
Look what the wind blew in to Weld County. Located on Colorado's high plains just north of Denver, the county has long been home to old-style industries like agriculture and oil production. But recently Denmark-based Vestas, the world's largest maker of wind turbines, made Weld one of its prime manufacturing sites in the United States.
Sarah MacQuiddy, the local Chamber of Commerce head, said she'd send a jobseeker to Vestas, or one of the many companies that support it, as they employ 800 people and have plans to expand. And there are always the more established businesses: Kodak still employs 2,300 workers, the local hospital 2,700 and meat packer J.B.S. around 3,650.
NEXT: Hidalgo County, TX