Especially in a tough economy, plentiful job opportunities are key to making a great place to live. These 25 counties have experienced the most job growth over the last eight years.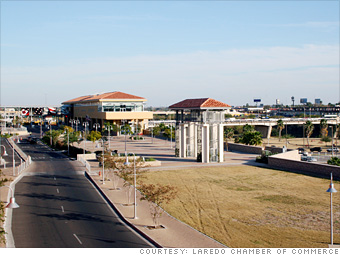 Towns include:
Laredo
Job growth (2000-2008):
49.2%
Webb, which sits right next to Mexico, is home to the largest inland port in the U.S. and is heavily reliant on international trade. Although the economy has taken a hit recently because of the escalating violence just south of the border, that hasn't dampened the local job market.
New jobs are available in the Department of Homeland Security, customs and border control. And retail is still going strong, because of Laredo city's prominence as a shopping destination for shoppers from Northern Mexico. Many people also come for the tasty Mexican tacos, or to cheer on the famed Laredo Bucks ice hockey team.
NEXT: Clark County, NV