Especially in a tough economy, plentiful job opportunities are key to making a great place to live. These 25 counties have experienced the most job growth over the last eight years.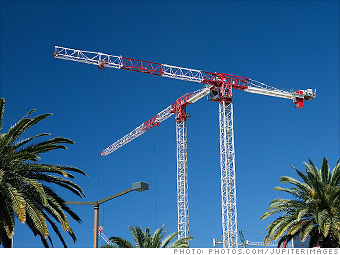 Towns include:
Summerlin South
,
North Las Vegas
,
Henderson
,
Spring Valley
,
Las Vegas
,
Sunrise Manor
,
Paradise
,
Boulder City
Job growth (2000-2008):
47.7%
Clark County may be down but it's certainly not out. Even though the housing market suffered and tourism declined this year, the home of the sunset strip is still betting on an ace up its sleeve: a new solar energy facility in Boulder City and several others in the works, which could each bring 800 construction jobs, plus future 'green' jobs to the region, according to Las Vegas-based Applied Analysis.
And don't discount the one-of-a-kind hotels, restaurants, stores, clubs and, of course, casinos that remain the major employers in the area.
Clark is also banking on the new CityCenter development now underway, which will house a gaming resort, shopping mall, luxury hotels and residences. The project may create 10,000 to 12,000 jobs once it opens, according to Brian Gordon, a principal analyst with Applied Analysis. "The short term reality is that it's a difficult climate but, we certainly expect that there will be opportunity for future growth," Gordon said.
More galleries