Seeking a sugar daddy (or sugar-mama)? Follow the money to these towns and cities, where affluent young professionals are abundant.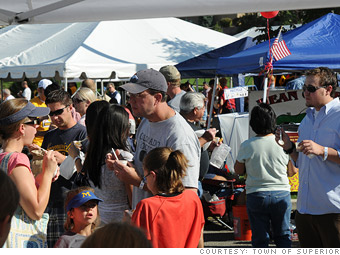 Population: 10,483
Single: 29.6%
Median family income: $117,603
During the workday, Superior residents hide inside R&D labs for companies like Sun Microsystems, but at night, these high-tech hotties drive to nearby Denver or Boulder, both just a few miles away, to decompress. On weekends, head to the hills to find outdoorsy locals with brains
and
brawn: you'll find them rock climbing or kayaking in Eldorado Canyon, a 10-minute drive from Superior, or biking along the Morgul-Bismarck trail.
See complete data and interactive map for Superior
NEXT: Belmont, MA
Last updated July 13 2009: 7:59 AM ET