When you hear 'Detroit,' you may think bust and bailout. But look past the headlines to find nice prices on sharp cars.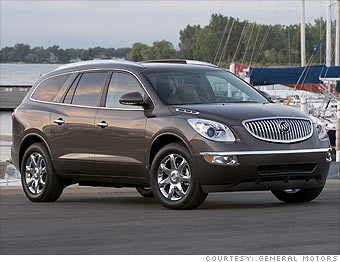 Buick Enclave
Sticker price:
$35,070-$39,380
Market price:
$32,218-$36,270
Cost of ownership:





Miles per gallon:
17 city 24 hwy.
Roomy SUVs often drive like trucks. You won't mistake this for a sedan, but it has a smoother ride than most in its class, and surprisingly good fuel economy. (As a result, it's a touch slower switching gears.) The Chevy Traverse and GMC Acadia are close cousins, but the Enclave has the design edge. Buicks get high marks from J.D. Power on dependability, which improves resale value.
NEXT: Ford Escape
Last updated July 23 2009: 5:58 PM ET
About the Numbers * * * * *
Market-price data and the five-star cost-of-ownership rating come from Vincentric. The ratings compare fuel cost, depreciation, and other expenses over five years to those of vehicles of similar class and price. A higher rating means lower expected costs.