When you hear 'Detroit,' you may think bust and bailout. But look past the headlines to find nice prices on sharp cars.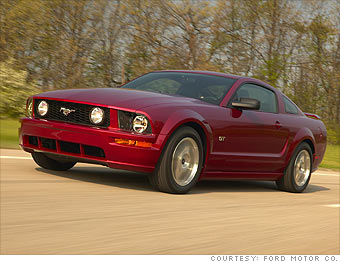 Sticker price:
$27,210
Market price:
$22,217
Cost of ownership:





Miles per gallon:
15 city 23 hwy.
It's a safe bet that few Mustang shoppers are ogling its nice ownership-cost rating, which is driven by its resale value. They're probably more interested in performance, and they won't be disappointed. One caveat: Although the 2009 is a good deal, the 2010 features electronic stability control, which helps prevent wipe-outs. You'll pay up to $6,000 more, but it's worth it if you can do it.
NEXT
Last updated July 23 2009: 5:58 PM ET
About the Numbers * * * * *
Market-price data and the five-star cost-of-ownership rating come from Vincentric. The ratings compare fuel cost, depreciation, and other expenses over five years to those of vehicles of similar class and price. A higher rating means lower expected costs.