When you hear 'Detroit,' you may think bust and bailout. But look past the headlines to find nice prices on sharp cars.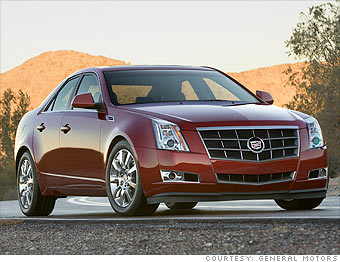 Sticker price:
$36,560-$40,760
Market price:
$32,652-$36,575
Cost of ownership:





Miles per gallon:
16 city 25 hwy.
The outside of the CTS looks slick, but if you're buying for aesthetic appeal, it's the interior you'll really want to check out. The swooping lines of the "twin cockpit" design make you feel as if you're in a very elegant racecar. The ride is as smooth as you'd expect from a luxury sedan, with gentle steering feedback that still lets you feel the turns. At a sticker price close to that of a BMW 3 Series or a Mercedes-Benz C-Class, the Cadillac is roomier inside and its performance is comparable.
NEXT: Buick Enclave
Last updated July 23 2009: 5:58 PM ET
About the Numbers * * * * *
Market-price data and the five-star cost-of-ownership rating come from Vincentric. The ratings compare fuel cost, depreciation, and other expenses over five years to those of vehicles of similar class and price. A higher rating means lower expected costs.