Holmdel, N.J., residents pull in more than $159,000 a year. Which other places in our Best Places database have high incomes?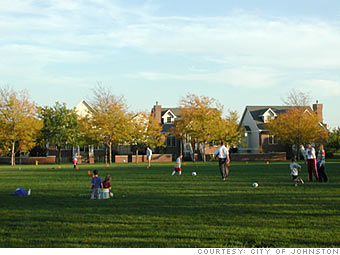 Population: 15,261
Median family income (per year): $120,776
Median home price: $208,000
Located just north of Des Moines, Johnston is one of the fastest-growing communities in Iowa. But with its own strong employment base, and headquarters of major companies including John Deere Credit and seed company Pioneer, it's no commuter town.
That agricultural foundation is important in Johnston, which retains a rural feel despite its quick growth. The land along Beaver Creek, which runs through the middle of town, includes a variety of parks and an extensive trail system that ties its neighborhoods together.

See complete data and interactive map for Johnston

NEXT: Lake Oswego, OR