Holmdel, N.J., residents pull in more than $159,000 a year. Which other places in our Best Places database have high incomes?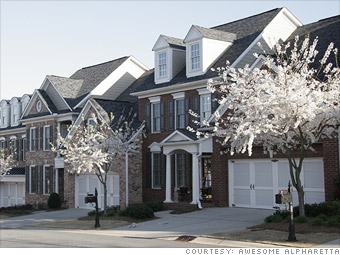 Population: 49,662
Median family income (per year): $117,002
Median home price: $297,450
Hometown style permeates Alpharetta, but it's no sleepy Southern town. Located less than a half-hour from Atlanta, the community offers seven shopping districts, 150 restaurants, 23 hotels and a burgeoning art scene.
Joggers and bicyclists frequent Big Creek Greenway, a 6-mile concrete path that weaves through heavily-wooded wetlands. Alpharetta's spirit shines through its offering of quirky activities, including indoor car racing and off-roading.

See complete data and interactive map for Alpharetta

NEXT: Montgomery, OH