Holmdel, N.J., residents pull in more than $159,000 a year. Which other places in our Best Places database have high incomes?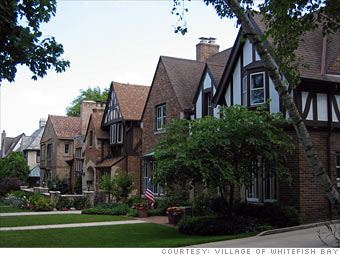 Population: 13,747
Median family income (per year): $116,148
Median home price: $311,000
Located on the shores of Lake Michigan, this family-friendly village packs a lot into its 2.4 square miles: more than 4,800 residences, 100 commercial properties, and 330 businesses. A 17-minute drive down the shoreline leads to the heart of Milwaukee.
Several schools lie within the borders of Whitefish Bay, which has strong roots in education. In 1892, the town's 300 residents banded together to form a government and school system independent from Milwaukee. Today those school grounds are known as Old Schoolhouse Park, located across from the public library.

See complete data and interactive map for Whitefish Bay

NEXT: Hanover, NH