Holmdel, N.J., residents pull in more than $159,000 a year. Which other places in our Best Places database have high incomes?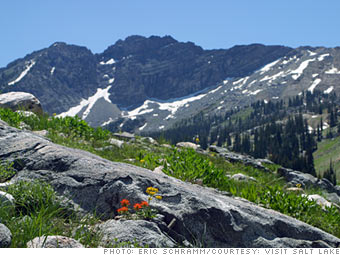 Population: 25,527
Median family income (per year): $101,059
Median home price: $293,625
Nestled at the base of the Wasatch Mountains, Holladay is a largely residential city on the rise. It's expanded its borders a few times -- most recently in 2002 -- and a new half-billion-dollar, 57-acre center plaza is in the works.
The local Cottonwood Mall redevelopment project will include 575,000 of shops, 195,000 square feet of office space, and approximately 500 housing units. The commercial sector is scheduled to open by late 2010, and 11 acres of the site are to be set aside for a community gathering place.

See complete data and interactive map for Holladay

NEXT: Edgewood, KY