Holmdel, N.J., residents pull in more than $159,000 a year. Which other places in our Best Places database have high incomes?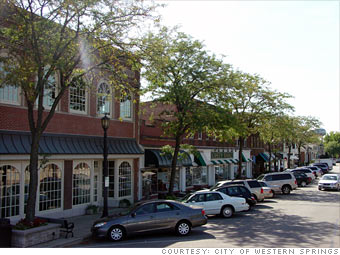 Population: 12,629
Median family income (per year): $139,758
Median home price: $513,500
This wealthy suburb of Chicago, named after a natural spring in the area that was believed to have healing powers, once belonged to the Pottawatomie Indian tribe.
Subsequent Quaker settlements turned the village into a quiet community that banned both alcohol and tobacco. Western Springs is still a quiet, family-friendly neighborhood, favored by professionals like lawyers, doctors and engineers.
The area's historic sections feature million-dollar Victorian style homes although many older homes have been torn down and are being replaced by elaborate custom-made houses. Country clubs, numerous neighborhood parks and a nationally-recognized theatre school complete this playground of the rich.

See complete data and interactive map for Western Springs

NEXT: Hockessin, DE