Your car may not be new, but its gizmos can be - for as little as a few hundred bucks.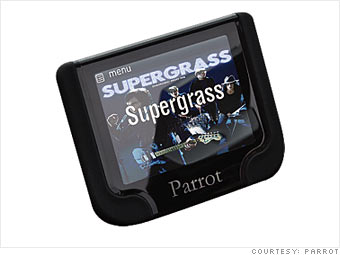 What new cars have:
Car-specific Bluetooth devices that "play" phone calls through the stereo. You hear voices loud and clear, and can switch between phone and music easily. Bonus: no need to wear an uncomfortable Bluetooth earpiece while driving.
How you can get it: Splurge:
Parrot MKI9200
$250
It connects wirelessly via Bluetooth to your phone, but it's wired to your car stereo for high sound quality. And it understands voice commands.
Pro installation required? Yes, for about $200.
Steal:
Motorola ROKR T505
$62
All wireless, it can be used in multiple cars. Sound quality is good but not great, due to lack of wires.
Pro installation required? No, just clip it to your visor.
NEXT: 3. Surf via in-car Internet