Your car may not be new, but its gizmos can be - for as little as a few hundred bucks.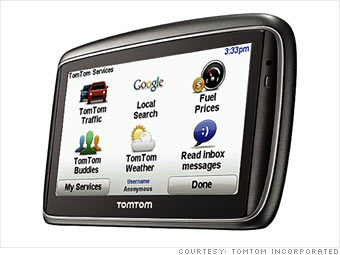 What new cars have:
Connected GPS devices that let you search for a destination - be it a favorite flower shop, the nearest burrito joint, or a cheap gas station - then steer you there. On some systems, search results of businesses include user ratings.
How you can get it: Splurge:
TomTom GO 740 LIVE
$320 plus $10 a month
The TomTom delivers fuel prices, live traffic, and weather. Plus, Google Local search can help you find almost any place and includes user reviews for businesses.
Pro installation required? No. It attaches by suction cup.
Steal:
your smartphone
Many models (BlackBerry Curve, iPhone, and HTC Touch Pro, for example) offer both GPS navigation and web search. Ask your carrier if using them incurs extra fees.
More galleries