Your car may not be new, but its gizmos can be - for as little as a few hundred bucks.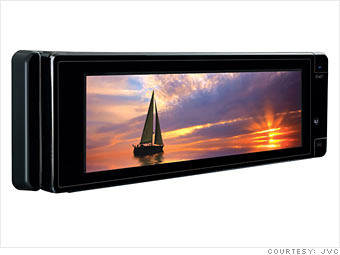 What new cars have:
Stereo systems that can play music from an iPod or other MP3 player - and, often, from a USB thumb drive or flash memory card too. (The latter two are easy, compact ways to carry around a huge amount of music.) As for CDs? Many of the latest models don't even play them anymore.
How you can get it: Splurge:
JVC KD-AVX77 El Kameleon
$450
This excellent-sounding stereo offers the rare ability to play music off of today's technologies (MP3 players, iPods, thumb drives) and yesterday's (CDs). It can be upgraded to support satellite radio too. But it's more than just a music player: You can also view DVD movies or photos on its widescreen faceplate.
Pro installation required? Yes, for under $100.
Steal:
Audiovox FMM-100 FM modulator
$48
Use this to connect a portable media player to an existing car stereo over a closed circuit. You get vastly better sound quality and less interference than with connectors that convert the sound into an over-the-air signal you have to tune in via your radio.
Pro installation required? Yes, for $50 or less.
NEXT: 2. Chat with hands-free calling devices