Money picked the top 100. Now readers have their say: From fun festivals to natural beauty, they explain why their hometown should be the Best Place to Live.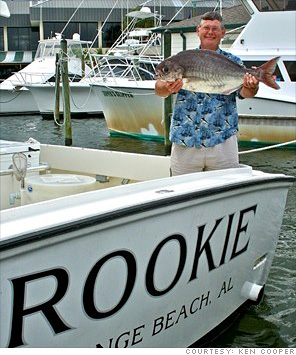 Lucky angler Rickie Posey in Orange Beach
What makes it great:
Being on the Gulf Coast
Nominated by: Ken Cooper, 53, manager of the Orange Beach Community Website
This fish is the largest barrel fish ever caught in Alabama, and it's rare that we even caught that fish in Alabama because they are usually further south in the Gulf....The fishing here is incredible as a result of the state's artificial reef program....Here, when you go out fishing, you almost always catch your limit. ...
I've traveled all over the country, and I've never seen any beaches as nice as the ones we have here. The sugar white sandy beaches that contrast against the emerald waters of the Gulf of Mexico are a pretty thing to look at....In the early morning right after sunrise, the colors are very vibrant at that time with the sun being low in the sky -- it pulls out all of the colors in the water.
I love living in a beautiful place and being able to see beautiful scenery, and I try not to take it for granted.

NEXT: Asheville, N.C.