In today's tight economy, who doesn't want to free up some cash? Trim the fat but not the fun from your budget - here's how.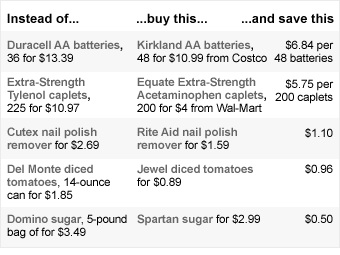 Monthly savings up to:
$15
Save your brand loyalty for where it counts -- a Chanel bag or a Brooks Brothers jacket. After all, when you're battling Rafael Nadal in Grand Slam Tennis on your Wii, who cares what batteries are powering your remote? If there's no innovation happening with the product, the private label can be just as good, or better, says UNC marketing professor Jan-Benedict Steenkamp.
We estimate you can save up to $15 a month by going with the store-brand or little-known brand for batteries and these other products: pain relievers, canned fruits & vegetables, pantry staples and basic beauty products.
NEXT: Work out for less