In today's tight economy, who doesn't want to free up some cash? Trim the fat but not the fun from your budget - here's how.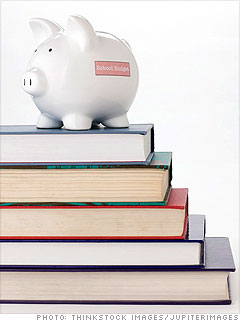 Monthly savings up to:
$128*
Tuition is the largest single bill you'll pay for Junior to get a degree from Bleed You Dry U. But other costs add up fast. Slash these three:
Books:
Nix
Brief Principles of Macroeconomics
from the college bookstore ($146); rent it from
Chegg.com
or
CampusBookRentals.com
, which carries the intro econ text for $68 a semester.
Meals:
Go for a seven- or 14- meal plan, not a full one. Your kid will be up late partying, er, studying, and skipping breakfast a few days a week. And no one eats in the cafeteria on Saturday night.
Travel:
For trips home, buy a Student Advantage discount card ($20) to save 15% on train and bus fares, 10% off selected flights.
NEXT: Cut the cost of next year's camp...
Last updated August 17 2009: 9:37 AM ET
Note: Based on saving 50% of national average of $1,077 a year for books; Cornell semester meal plans ($2,900 unlimited vs. $2,450 for 14 a week); four roundtrip train rides, Ann Arbor to Rockford, Ill., plus one spring break flight to Miami.