In today's tight economy, who doesn't want to free up some cash? Trim the fat but not the fun from your budget - here's how.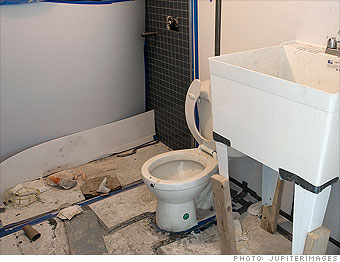 Monthly savings:
$23*
Even DIY newbies should be able to tackle these home maintenance projects.
Clean the carpet.
No need to hire a pro every time you get a spot on the rug. Rent a carpet cleaner for $20 (
see rental tips
) and save the $200 or more a cleaning service charges to render five rooms spotless.
Fix that leaky toilet.
All you probably have to do is replace the valve in the tank (called the flapper valve) that lifts up when you flush and lets the water flow through to the bowl. The actual part costs only $3 to $5, but a plumber will charge $70.
Weather-strip your doors.
To stay toasty this winter, stop the leaks that let warm air out and cold air in. A handyman will charge $65 to install the weather stripping and door sweep needed to help seal a door against the elements. But you can buy the supplies for $15 at your local hardware store and attach them yourself. $23
NEXT: Zap your energy costs
Last updated August 17 2009: 9:37 AM ET
Note: Fix a toilet once a year, clean your own carpet every other year instead of hiring a pro annually, and weather-strip two doors every three years.