In today's tight economy, who doesn't want to free up some cash? Trim the fat but not the fun from your budget - here's how.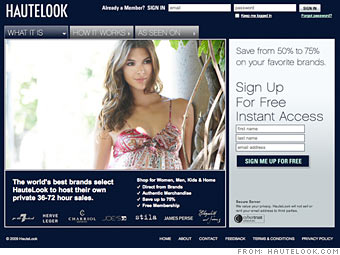 For years fashion designers have held sample sales to clean out inventory, pricing end-of-season stragglers at a deep discount. But you had to be in cities like New York or Los Angeles to benefit.
Not anymore.
Over the past year or two, at least a half-dozen sites have been launched that bring the designer sample sale concept online, as recession-challenged luxury marketers search for a broader audience. While sites such as Bluefly.com and Yoox.com have been around for years, the new breed -- sites such as
Gilt.com
,
EditorsCloset.com
,
HauteLook.com
, and
RueLaLa.com
-- offer limited-time sales but for deeper discounts (50% to 75% off retail vs. a more typical 40% at the older sites). The deals can be stunning: HauteLook recently sold a stainless-steel men's Movado watch for $429, 71% less than the $1,495 price tag in stores.
In addition to clothes for men, women, and children, many of the sites handle jewelry and other accessories (handbags, shoes, sunglasses). But to get the bargain, you have to become a member of the site, either by invitation (say, from a friend who's enrolled) or by simply signing up (some sites may have a short wait list). You also have to time it right. Sales typically run for 36 to 48 hours only, with many items selling out in the first hour.
NEXT: Scour home-goods sales