In today's tight economy, who doesn't want to free up some cash? Trim the fat but not the fun from your budget - here's how.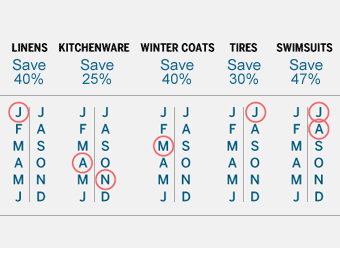 Monthly savings up to:
$46*
Don't get gouged -- buy that air conditioner in January, not July, and get it for nearly half the price. You can save 25% to 40% or more if you know when to buy these goods.
NEXT: Stretch it out
Last updated August 17 2009: 9:37 AM ET
Note: Savings amortized over 12 months for down comforter (original price: $480); skillet, pot ($125); winter coat ($350); four Firestone tires ($492); Calvin Klein one-piece suit ($94)