In today's tight economy, who doesn't want to free up some cash? Trim the fat but not the fun from your budget - here's how.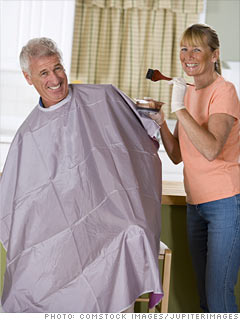 Monthly savings up to:
$38*
Look like a million bucks without spending a million by slowing down your personal care regimen.
Go easy on dry cleaning.
Cut the number of trips you make in half: 65% of clothes that are dry cleaned can be washed by hand or machine, says Kathryn Finney, founder of thebudgetfashionista.com. For example, you can put linens in the washer and do most sweaters in cold water by hand (including cashmere and camel hair). Most silks are hand washable too. Exception: bold colors like brick red, deep brown, and navy should still be dry-cleaned.
Do home touchups.
Add at least two weeks to the time between hair coloring appointments ($100 or so a pop) by using over-the-counter products (about $10) from the drugstore to cover up your roots.
NEXT: Get to work cheaper
Last updated August 17 2009: 9:37 AM ET
Source: Note: Based on estimates from the Drycleaning & Laundry Institute; hair savings assumes treatments every five weeks.