In today's tight economy, who doesn't want to free up some cash? Trim the fat but not the fun from your budget - here's how.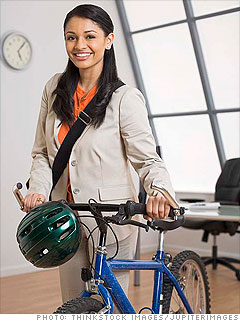 Monthly savings up to:
$320*
A suburban driver commuting to the city might shell out $575 a month for gas, parking, and car upkeep, assuming a 30-mile roundtrip. These downshifts can help:
Grab a tax break.
Sign up for your company's transportation reimbursement account, which lets you pay up to $230 in monthly parking fees with pretax dollars. (You can set aside the same amount for mass-transit costs.) Savings: about $80 a month.
Drive with a buddy.
Carpool to work with a colleague. No one suitable you know nearby? Get matched up at
carpoolworld.com
or
erideshare.com
.
Go from four wheels to two.
Buy a good commuter bike ($500) and cycle to work as the weather permits. Do that six months a year and you'll save $250 a month.
NEXT: Step off the gas
Last updated August 17 2009: 9:37 AM ET
Note: Assumes 28% tax bracket; carpooling 10 months a year; cycling costs include bike, helmet, air pump, $25-a-month maintenance.