Want to retire where residents live a long life, there are lots of doctors and hospitals nearby, and you can pursue an active lifestyle? Check out these 20 towns.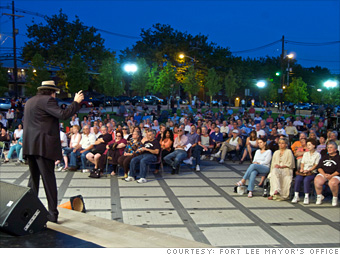 The local community center hosts picnics, outdoor concerts, dancing under the stars and other events
Population: 36,500
% over 50: 41%
Doctors (in county): 3,653
Hospitals (in 30 miles): 757
Life expectancy at birth: 80.10
Close to Giants and Yankees Stadium, Fort Lee attracts athletes -- and sports fans -- who want to live near New York City. New York Yankees' pitcher Chien-Ming Wang, for example, calls the town home. Get to know your neighbors and you just might get some fitness tips from a pro.
Fort Lee, once a capital of the early film industry in the U.S., now takes pride in providing its residents with a healthy and quiet suburban lifestyle. Walk, bike or hike the trails in Fort Lee Historic Parks and enjoy spectacular views of the Hudson River and Manhattan.
Or cross the George Washington Bridge to all New York City has to offer. --H.Y.

See complete data and interactive map for Fort Lee

NEXT: Yonkers, NY