Want to retire where residents live a long life, there are lots of doctors and hospitals nearby, and you can pursue an active lifestyle? Check out these 20 towns.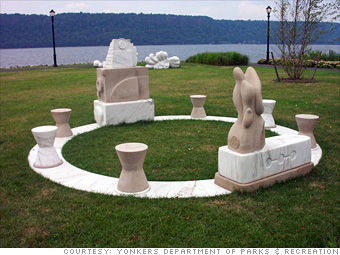 Sculpture Meadow at Yonkers' Esplanade Park
Population: 199,200
% over 50: 33%
Doctors (in county): 3,948
Hospitals (in 30 miles): 746
Life expectancy at birth: 79.64
Lace up your running shoes and challenge yourself racing the city's annual marathon, the nation's second-oldest after the famed Boston Marathon. The course, which snakes along the scenic Hudson River, was once an Olympic qualifying race.
If you'd rather stay cool while burning calories, play hockey or just glide around the rink at Yonkers' Murray Skating Center.
For more creative pursuits, it's just a short drive to Manhattan's renowned arts scene. Yonkers has plenty of its own culture to offer, too. The Fine Arts Orchestral Society sponsors the local philharmonic and provides free concerts on Sunday afternoons for residents. Yonkers also hosts Riverfest, an annual outdoor festival that attracts 30,000 people from around Westchester for a day of music, foods and art exhibits. --H.Y.

See complete data and interactive map for Yonkers

NEXT: Downers Grove, IL